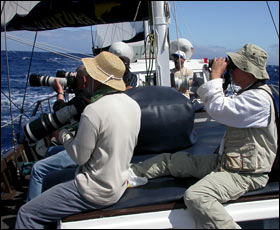 Seawatchers on board Ventura, when sailing to the Salvage Islands on 6th July 2005.
Photo: Niklas Holmström

Until recently it has been very difficult to get to the Selvagens for an "independent" birder. The archipelago is well off the beaten track, and except for the wardens and Frank Zino's regular visits, only scientists doing research on its flora, fauna and marine wildlife have been allowed to visit and land on the islands. Worthy of mention are the Paris Museum ornithologists, Christian Jouanin, Francis Roux and J-L Mougin, who visited the islands from year 1963 until about 2000, when they had all retired. They have over 30 papers published on Selvagens!
As today, one Madeiran based company, with experience of trips to Selvagens, now run charter boat tours to the islands: Ventura do Mar, which is the very same company that run both full days or 24-hours boat tours to the Desertas Islands, regularly during summer time.
The Selvagens are actually closer to the Canary Islands than they are to Madeira (they are about 300km south of Funchal and about 160km North of Santa Cruz de Tenerife), so theoretically one could visit more quickly from there, but it must be remembered that the Selvagens are Portuguese, like Madeira, whereas the Canary Islands are Spanish, so it is likely to be much easier to obtain the necessary landing permits through a Madeiran company. The Selvagens are a strict nature reserve and landing permits are not issued lightly. The named Madeiran company should be able to organise these formalities from the Parque Natural da Madeira without too much difficulty.
In summer and early autumn, the weather around Madeira and the Canary Islands is dictated by the predictable north to north-easterly trade wind, although the strength of the wind varies. If it is not too brisk, there are seldom any problems sailing to the Selvagens (with a tail-wind), but the return trip is much more critical because the sailing is then into the wind. Apart from the discomfort of a rough return journey, a heavy swell can make it difficult to seawatch and impossible to photograph seabirds from the deck of a boat. Also, strong winds can make it difficult to land, in particular on Selvagem Pequena, as this island (unlike Selvagem Grande) is very flat and offers little shelter for any boat to anchor.


Ventura do Mar
The experience with Ventura do Mar, during our five-day trip in July 2005, was extremely good. The crew, including two Marine Biologists, were very friendly and helpful, very knowledgeable and interested in the wildlife and, most importantly, very experienced with sailing some of the difficult waters around the Selvagens. The price for a five-day round trip is 800 Euro per person. Everything, including three meals per day, plus tea, coffee and snacks was included. The license to land on the islands was also organised by Ventura do Mar and was included in the price. The Ventura do Mar was built by António Pedro Gonsalves (Machico) in early 1960's, so is not an ultra-modern fibreglass vessel, but a quite broad, wooden boat. This has a number of advantages: she is very stable, the stern deck is spacious and well suited for seawatching, and also the boat is relatively slow (typically travels at about six knots with a fair wind), which allows both seawatchers and photographers plenty of time to enjoy the seabirds coming up close to the boat and see them over longer periods. The company will try to arrange five trips in 2006 (one is already fully booked), depending on the numbers of birders interested in such great trip.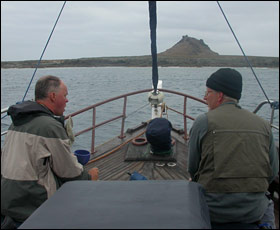 A nice breakfast chat on board Ventura do Mar, which lay at anchor off Selvagem Pequena.
Photo: Niklas Holmström

Advices when preparing a trip to Selvagens
Wise from the experience of our trip with the company Ventura do Mar, some advice can be given for anyone planning a similar trip. Clearly the weather – and in particular the wind strength – can be a problem, so it is worth booking a flight to Madeira with at least three or four days leeway at each end , so that the precise dates of the trip can be adjusted to avoid any peaks forecast in the wind strength. It may well also be a good idea to pay extra for one's flights to have changeable flight dates. If photographing digitally, battery power is always critical, so remember to bring extra batteries. Batteries can be recharged on Ventura do Mar, but only when the engine is running, not when anchored. If in doubt, ask before travelling. A light sleeping bag is necessary for sleeping on board Ventura do Mar. A telescope is useless on the boat, but useful for seawatching from land on the islands (and on Madeira before or after the trip). Of course a torch (head or handheld ones) is necessary when walking the paths in complete darkness. If prone to sea-sickness, think twice before deciding to undertake such a trip, remembering that the travelling time each way takes about 25 to 32 hours depending on wind conditions. To see the full range of breeding seabirds, visits are probably best taken between May and August.